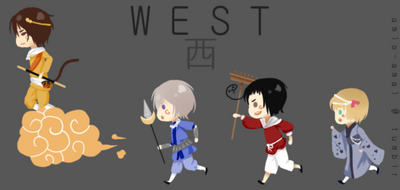 Archive #1 - August 21st 2011 - January 15th 2012

Archive #2 - January 28 2012 - November 25 2014
Archive #3 - November 25 2014

If i don't reply to your message within a few days, you can email me at: texascutepanda2128@gmail.com
yeah go ahead and delete her sungmi♪ ☯i want cha hakyeon☯☾to sit on me☽ 00:54, November 26, 2014 (UTC)
wow new chara
Edit
ill prob make a new chara tomorrow to balance mine out we got the serious one the shy one the crabby one and we gon get an energetic one it gonna happen tomorrow sungmi♪ ☯i want cha hakyeon☯☾to sit on me☽ 03:59, November 26, 2014 (UTC)
minhyuk me boi
Edit
i still dont have a history for this kid and i was thinkin like laurel coulda made him a god bc she taught he was worthy or some shit idk man. also im making the new chara now holla sungmi♪ ☯i want cha hakyeon☯☾to sit on me☽ 16:17, November 26, 2014 (UTC)
do u still need the page to be fixed? ♚ⒷⓁⓊⒺⓎ♚❥kpop hell yah✌ 17:33, November 26, 2014 (UTC)
yo chat aint working rn ill be on again at like eight sungmi♪ ☯i want cha hakyeon☯☾to sit on me☽ 01:25, November 27, 2014 (UTC)
idk blacky am i alive? it's been like ten years since i got on oops. i forgot my password to my user and i'm too lazy to make a new so, anon kaze is kind of alive for a bit. whoo
^^ yooooo kaze where you been boi 
also get on chat bloop sungmi♪ ☯i want cha hakyeon☯☾to sit on me☽ 16:28, November 28, 2014 (UTC)
yo should we delete http://battleofthegodsroleplaying.wikia.com/wiki/Amaya_Eriko theres like nothin there and its not on her user sungmi♪ ☯i want cha hakyeon☯☾to sit on me☽ 16:15, November 29, 2014 (UTC) 
since i have the sudden urge to write, idk what i should write about. maybe a coffee shop au or hs au??? or just random shit idk any ideas bruh sungmi♪ ☯i want cha hakyeon☯☾to sit on me☽ 15:03, November 30, 2014 (UTC)
HAAAAAAAAAAAAAAAAAAAPPPPPPPPPPPPPPYY BIIIIIIIIIIRTHDDDDAAAAAAAAYYYYY sungmi♪ ☯i want cha hakyeon☯☾to sit on me☽ 22:32, December 8, 2014 (UTC)
i heard about ur bday
happy late bday bloop~
~bluey 
Heya, nice to meet you all! Any chance I can get in on this? I'm more used to forum roleplay, so I'm a bit lost. Where should I start? Sorry if I'm being a bit forward, I'm trying to get started quick. Thanks!
Bauccgia0 (talk) 21:52, December 11, 2014 (UTC)
Alright, thanks! For pictures, are there any specific rules? I can assume that nudity and what not is definitely not allowed, but other than that, what are the boundaries?
Bauccgia0 (talk) 15:02, December 12, 2014 (UTC)
So, what about these?
http://netstorage.discovery.com/feeds/brightcove/asset-stills/apl/128759273439213178401801197_Wendigo.jpg
http://fc03.deviantart.net/fs71/i/2011/330/7/0/wendigo_by_kiwi_flight82-d4hefea.jpg
http://fc02.deviantart.net/fs70/f/2012/205/3/e/wendigo_by_theruthela-d58gfya.jpg
I was planning on making a god of dark inspiration and getting lost in the woods, and I thought I'd base him off of some more stylized wendigoes. Are these alright?
Bauccgia0 (talk) 23:53, December 12, 2014 (UTC)
The best analogue I can think of is this; have you ever played Dwarf Fortress? You run a civilization of dwarves, yadda yadda, pretty fun. Sometimes they can be struck with inspiration, and grab random materials to make art. Sometimes, however, they are struck with a dark mood, which makes them do bad things in order to make their art. Sometimes, they'll steal from other dwarves, kill an animal outside and make it into a statue, or sometimes they'll just kill the nearest dwarf and turn their bones into a table. It'd be horrifying if the game wasn't in ASCII. Anyhow, that's what my god is god of. Does that make sense?
Bauccgia0 (talk) 17:38, December 15, 2014 (UTC)
Alright, cool! Thanks! I'll work on making a page for him sometime this week. Thanks again for all your help!
Bauccgia0 (talk) 02:36, December 16, 2014 (UTC)
Back from the dead!
Edit
Ayyyy I'm doing awesomely at the moment!! And yes, I only started looking into my gender recently, so it may change, of course. At the moment I'm probably either nonbinary or genderfluid? Leaning towards nonbinary. How about you?
Fair enough. Also, do you know what timezone everyone else is in? I need to find a good time to talk to them as well. Kogata Talk to me! 05:17, December 22, 2014 (UTC)
rip new user
also i got the flu lmao
how u doin sungmi♪ ☯i want cha hakyeon☯☾to sit on me☽ 02:47, January 24, 2015 (UTC)
im ScReaMI N G @ how nasty we sounded ♚ⒷⓁⓊⒺⓎ♚❥kpop hell yah✌ 22:57, August 5, 2015 (UTC)
blacky...... hello from the other side..... firey is on here again kinda @spookysnails or smthing.... what if ths wiki gets started up again.. during thanksgiving... a christmas miracle............ greeny♪ ☯gotta go fast☯☾like sonic☽ 03:06, November 3, 2015 (UTC)