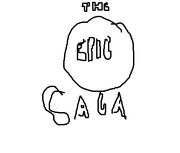 The Epic Saga is a serious of fanfictions written by Dynovan. They are adventure fanfics, featuring epic battles and explosions. The first two installments, '
Supermassive Black Hole
' and '
Race to the door
' have been released.
Confirmed characters
Edit
These characters have been confirmed to appear in The Epic Saga.
Installments
Edit
The installments released so far are:
Ad blocker interference detected!
Wikia is a free-to-use site that makes money from advertising. We have a modified experience for viewers using ad blockers

Wikia is not accessible if you've made further modifications. Remove the custom ad blocker rule(s) and the page will load as expected.